Property Inspections
Keep a Close Watch on Your Property's Health
Request a Quote
Owner, Renter, or Vendor?
Keep a close watch on your property's health. We schedule regular inspections for every home in our portfolio. These visits give us the chance to make certain everything is on the up and up behind the scenes.
An Expert Property Manager Is an Asset
You might be thinking that an in-depth, routine property inspection sounds like an extra burden on top of an already full plate—the good news is that you have someone in your corner. Green River Property Management offers periodic interior and exterior inspections as well as move-out inspections as a part of our Full Service plan—including the associated reports.
Green River can help with other challenges landlords face as well, including rent collection, tenant placement, and maintenance services—day or night. If you're struggling to keep up with the demands of your property, reach out to Green River online or by phone for a FREE consultation. We can help you keep your workload manageable—and help you enjoy your investment to its fullest!
What Is a Rental Property Inspection?
In broad terms, a rental property inspection is a chance for you to physically inspect the condition of the interior and exterior of your property, and are typically performed:
In response to some specific event:

Pest inspections or inspections performed before a tenant moves in and out are typical examples of this sort of inspection.

Routinely over the term of a lease

These types of inspections aren't intended to hold anyone liable for anything you find; they're simply a chance to identify issues before they get worse and take corrective action.
Inspections are essential to perform because they allow you to verify the condition of your property yourself rather than relying on the word of others. An inspection will enable you to establish a baseline about the state of the property so that you can compare it against your next inspection. Finally, an inspection will give you the chance to search for hidden issues that neither you nor your tenants may have noticed in the past. We'll talk a little bit about a few common types of inspections next.
Move-In Inspections
You should perform move-in inspections during the tenant move-in process—before you've handed over the keys. Many landlords will use a move-in checklist to document pre-existing issues and have the tenant sign and date the form, and it's a common practice to take photos of existing damage. However, we take this a step further! While the checklist is a great starting point, that won't cut it with Green River PM standards! 360 degree inspections allow us to establish what issues may already be present at tenant moved in and ensures they're protected from inherited problems with the property. Some landlords will hand off the move-in checklist and leave it up to their tenants to document, but this isn't a good idea; inexperienced tenants may not know enough to look deeper than cosmetic damage. Remember, as a Jacksonville area landlord, you're required to abide by Florida law regarding move-in inspections; the law mandates that you "reasonably" inspect the condition of the property before transferring it, so don't neglect this step. Better yet, let the professionals handle this one!
Move-Out Inspections
A move-out inspection is similar to a move-in inspection; it's a chance for you to take a look at the condition of the property when a tenant is done with their lease and prepared to move out. You'll want to duplicate the inspection you performed before move-in so that you can get a good comparison of any issues. Be sure to schedule this type of inspection at the right time:
If you inspect too early, you may miss damage that tenants cause as they move out.
If you schedule it too late, tenants may be able to claim that they have vacated the property and the damage may have occurred outside of the terms of their lease.
Ideally, you'll perform a move-out inspection on the day your tenants vacate your property (or the day immediately after if you've given something like a midnight deadline).
Pest Inspections
Pest issues can be a bit of a tricky subject; Florida law has a few things to say about it. Generally, unless you are renting a single-family home or duplex, a landlord is required to deal with certain types of pests unless otherwise agreed in writing. The list is relatively small, but it includes:
Rats and mice
Roaches
Ants and wood-destroying organisms
Bedbugs
Generally, this sort of inspection requires some amount of expertise to do effectively, and it's a good idea to outsource it to a pest control professional—especially where the application of any chemicals is concerned. Need help? We've got you covered!
What We Do
Professional Solutions For Maximizing Your Rental's Earning Potential
How much rent for your investment?
We help rental property owners set the perfect rental rate for their property with our free rental analysis.
Discover the current market value of your home.
Find out how to increase your annual income.
Learn whether your property fits our portfolio.
Why Choose Green River Property Management?
Learn what makes us the perfect partner for your investment.
Healthy, Effective Communication is Our Priority.
As Jacksonville property managers, our goal is to create a healthy working relationship with every client we represent. We keep you aware of what's happening in your home and we return calls & emails quickly.
Our Team Understands the Needs of Modern Renters.
We work with tenants day in and day out, and we know what renters want to see in potential properties. We use this expertise to help our clients optimize their homes for success. Lower turnover rates & happier tenants say it all.
We Never Sacrifice Our Integrity or Commitment to You.
We build mutually-beneficial partnerships with our clients and base every interaction on our commitment to honesty and transparency. We'll never hit you with hidden fees or take advantage of you—our desire is to help you succeed, plain and simple.
Looking for Experience? You've Found It.
When it comes to rental properties in Jacksonville and the surrounding area, you won't find a more accomplished or experienced team. We've helped countless property owners over our 15-year history on Florida's First Coast.
Discover Jacksonville
Thinking About Investing in Real Estate in Jacksonville?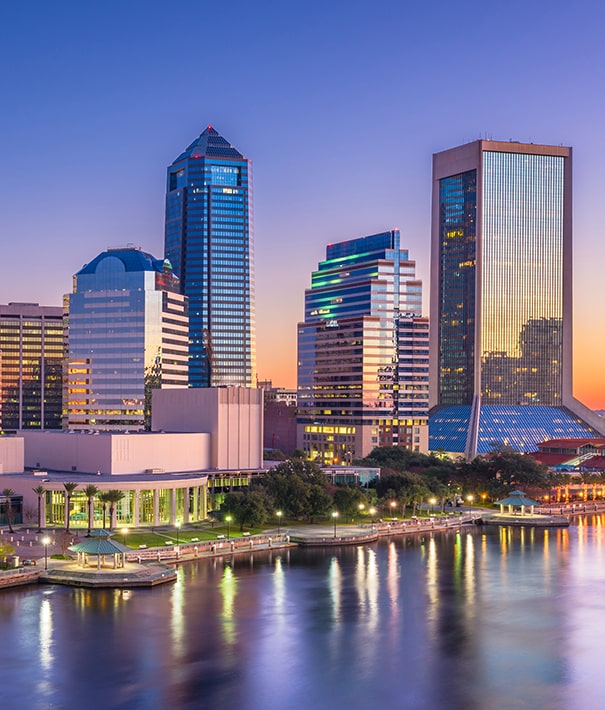 The area that today is known as Jacksonville has a long history - originally inhabited for thousands of years by the Timucua people, it then became a French colony in 1564. In 1821 American settlers planned a town and named it after President Andrew Jackson.
Jacksonville grew to become the most populous city in Florida and has an estimated population of 892,000 residents. As a harbor city, it is a major military and civilian deep-water port with naval establishments like the Naval Air Station Jacksonville, the U.S. Marine Corps Blount Island Command, and the Port of Jacksonville. Jacksonville's military bases and the nearby Naval Submarine Base Kings Bay form the third largest military presence in the United States. It is also a rail, air, and highway focal point with Jacksonville International Airport serving the city.
Jacksonville enjoys natural beauty from the St. Johns River and the Atlantic Ocean and has many parks that provide access for people to boat, swim, fish, sail, jetski, surf and waterski. Several parks around the city have received international recognition.
THINKING OF INVESTING IN JACKSONVILLE?
Jacksonville is centered on the banks of the St. Johns River in the First Coast region of northeast Florida, with its residents and visitors having access to breathtaking natural views and ocean pleasures.
It has long had a regional legacy in banking and finance and Jacksonville is home to many prominent corporations and organizations, including the headquarters of four Fortune 500 companies. Other significant factors in the local economy include services such as insurance, healthcare and logistics. As with much of Florida, tourism is also an important part of Jacksonville's economy, with golf being an especially popular draw.
There are more than 500 neighborhoods within Jacksonville's vast area, with single-family homes comprising roughly 60% of the properties there and apartments 23.7%. Trends in Jacksonville show a 7% year-over-year rise in median sales prices.
WHO IS GREEN RIVER PROPERTY MANAGEMENT?
We are Jacksonville property managers with a goal to create lasting, healthy relationships with our clients. More than just rent collectors, we use powerful marketing tools to make sure your property doesn't stand empty, thoroughly screen potential tenants and deal with the maintenance of your property. Our knowledgeable staff understands the needs of modern renters and have helped countless property owners over our 15-year history on Florida's First Coast. Green River also offers a free rental analysis of your property to determine how to maximize its earning potential and how to increase it.
learn more +